Fall is finally here and even though it doesn't really feel like it (especially here in miami). I decided to make some turkey chili to cozy up with. So turn up your a/c really cold, snuggle up in your blanket and enjoy this turkey chili!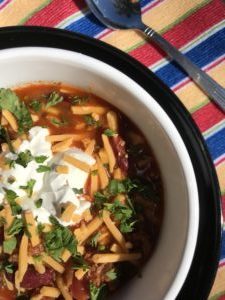 Ingredients
2 1/2lbs Ground Turkey
3 tbsp Oil/Butter
2 small Sweet Onions, chopped
4 Garlic Cloves, chopped
2 Chipotle Peppers, chopped
3 oz. Tomato Paste
2 tbsp Chili Powder
1 tbsp Garlic Powder
1 tbsp Dried Thyme
1 tbsp Salt
1 tbsp Onion Powder
3/4 tsp Cinnamon
1 tbsp Brown Sugar
2 tbsp Worcester Sauce
2 14oz can Dice Tomatoes
1/2 bottle of Beer
2 16oz can of Kidney Beans
Cilantro (optional toppings)
Cheddar Cheese (optional toppings)
Sour Cream (optional toppings)
Instructions
PREP ALL YOU INGREDIENTS FIRST!

Start off by heating up a large pot to medium/high heat with your oil. I used a dutch oven (essential kitchen item) but any large pot should work. Toss in your onions and garlic. Cook and stir until translucent about 5-7 minutes.
Add in your chipotle, stir around for 1 minute. Add in all your seasonings including the brown sugar and worcester sauce. Cook and stir around for 3 minutes.
Add your tomato paste. Cook and stir for 5 minutes.
Drop in your ground turkey. Use your stirring utensil to break up the meat and stir everything together. Cook until turkey is cooked and crumble like texture. About 5-7 minutes.
Add in your dice tomatoes, beans and beer. Mix real good.
Bring to a boil, cover, turn heat low and simmer for 15 minutes.
Serve with some fresh cilantro, sour cream and cheddar cheese. Enjoy!
http://thegrocerygoddess.com/because-its-fall/
*This also freezes well for any leftovers