If you didn't know I went Vegetarian for awhile (only lasted 3 months). It was a life changing 3 months until I started to feel like crap. Read my 'I Got Hungry' post. Well after just 3 months of no meat, I'm doing pretty good. I feel way better that I incorporated chicken back into my diet. I occasionally stir fry up some shrimp or bake a filet. Red meat still don't exist in my diet so turkey bacon and I became close friends. Vegetables are still a MAIN component on my dish. I sometimes eat meals with no meat. Vegetables are so versatile it's a shame that people don't like them. Sauté some squash, zucchini with some onions. Season with salt and pepper!? Heaven on a plate with some jasmine rice! Vegetarian life was a learning experience and a great 3 month detox. Remember to always do what's best for you but never shy away from something new.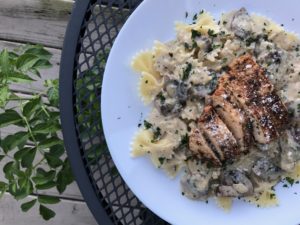 Ingredients
8oz Pasta, cooked and drained
2 boneless Chicken Breast
1 small Onion, chopped
1 1/2 cup Mushroom, sliced
2 Garlic Cloves, minced
1 Pint Heavy Cream
4 Sprigs of Thyme
1tbsp Parsley, chopped
1/4 cup Parmesan
Salt & Pepper
Butter
Olive Oil
Instructions
Cook your pasta as directed of package and set aside. Season your chicken breast how ever you want! You can't go wrong with a classic salt and pepper. Heat your skillet to medium, medium high. Add in 1tbsp of butter and a 1tbsp of olive oil.
When skillet is hot add you chicken breast. Cook for 3-4 minutes each side (depending how thick your chicken breast are). Set aside in foil.
Add in your mushroom (might need a little more butter or olive oil) stir around for 3-5 minutes.
Add in your onions. Season with a pinch of salt and pepper. Cook 2-3 minutes. (anytime your own looks dry add butter or olive oil)
Add your garlic, stir in for 1-2 minutes then add in your heavy cream and thyme. Give a good stir and let it reduce and thicken 7-10 minutes. Taste for seasoning (keep a eye on it, might over flow. adjust heat but keep a slight boil going)
Once it's reduced and thicken. Turn off heat and add in parsley and parmesan. Mix in well.
You can pour this over your pasta or mix pasta in sauce. Top with chicken and more parmesan! Enjoy!
http://thegrocerygoddess.com/life-after-being-a-vegetarian/