I normally Snapchat me making some food. So now I'm going to edit those videos and make small clips to share with you all on my site and IG. This here is my first of many! I will do better with editing and keeping it clean. Im trying to figure out now how to upload the video here on the site. But enjoy this simple weeknight pasta meal!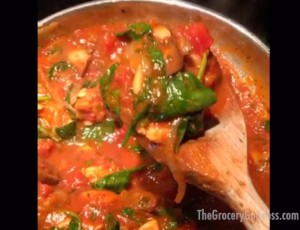 Ingredients
1 cup mushrooms
1/2 onion, chopped
2 chicken thighs, chopped
3 cloves garlic, minced
1/3 cup white wine
1 cup tomato sauce
1 cup spinach
2 tbsp salt + pepper
3 tbsp unsalted butter
Instructions
Start by melting 2 tbsp butter. Adding your mushrooms, onions and salt + pepper. Cook for 3-5 minutes.
Toss in your chicken add some more butter. Cook 5-7 minutes.
Add your garlic, stir. Pour in your wine and scrap up the brown bits from the bottom of your pan.
Add your tomato sauce, stir and simmer for 10 minutes. I added some water to loosen up the sauce.
Last 5 minutes add in your spinach. Mix in well and until wilted.
Serve this over pasta or rice. Top with cheese and enjoy!
http://thegrocerygoddess.com/snapchat-meal/