So with this snow storm having most of us snowed in, what's there to do but cook? I made myself this easy one pan flavorful brunch. Bacon and eggs over asparagus and mushrooms. Simply seasoned with salt, pepper and bacon fat!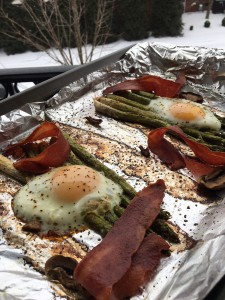 Don't want bacon? Try turkey bacon or no bacon at all. Add more mushrooms. Like a meaty portobello. Add some sliced onions or tomatoes. Top this with some fresh chopped parsley. Get creative, happy cooking!
Eggs and Bacon over Asparagus
Ingredients
6 slices of bacon
10 asparagus spears
2 eggs
4 mushrooms, sliced
salt + pepper, to taste
Instructions
Preheat oven to 475 degrees. Prepare a sheet pan with foil (for easy cleanup).
Bake your bacon for 10 minutes or until crispy. When done remove bacon to paper towel lined plate.
Add your asparagus, roll in bacon fat. Add more oil if needed. Add mushrooms as well, season with salt and pepper. Bake for 10 minutes.
Carefully crack your eggs over the asparagus, season with salt and pepper. Carefully place back in oven for another 6 minutes. Place your bacon back on to warm up.
Add some cheese, fresh herbs or whatever. Get creative and enjoy!
http://thegrocerygoddess.com/snowed-in-breakfastbrunch/