I love me a good pasta and when I came across this recipe, I had to try it! Its a simple one pot pasta, thats really tasty.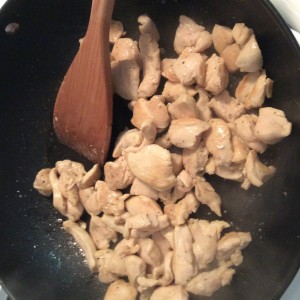 Brown the seasoned chicken in oil over medium high heat. You dont have to cook all the way, seeing that you will cook it a little later. Tough chicken is not good. Set aside when done.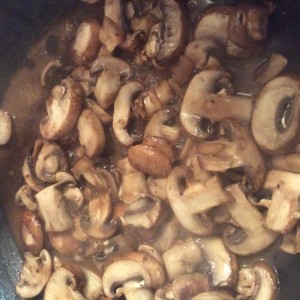 Saute mushrooms with butter. This takes about 5 minutes. Make sure to season with salt and pepper. Most of the juices will be gone when done. Toss in minced garlic and cook 2 minutes.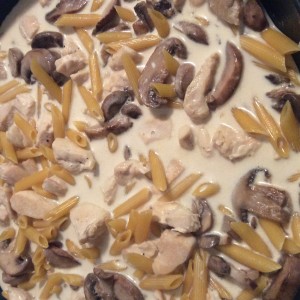 Pour in chicken broth and bring to a simmer. Toss in chicken and heavy cream, give a good stir and bring to a simmer. Cover and turn heat to low and let it go for 18 minutes.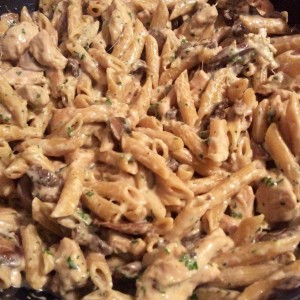 Fold in parmesan cheese until melted then stir in fresh parsley and boom! You got a awesome pasta. You could switch up the ingredients, like add broccoli or use sausage. Hope you try it out.
One Pot Mushroom Chicken Alfredo
Ingredients
2 tablespoons of olive oil
1 pound boneless skinless chicken breasts, cut into bite-sized pieces
1 pound of portobello mushrooms (you could use any mushrooms) cut in half
3 cloves of garlic, minced
2 tablespoon of butter
1 3/4 cup of low-sodium chicken broth
1 1/2 cups of heavy cream
8 oz of uncooked penne pasta
2 cups of freshly shredded parmesan cheese
salt and freshly ground pepper, to taste
1/2 cup of fresh flat leaf parsley, minced
Instructions
Season chicken breasts with salt and freshly ground pepper.
In a large sauté pan over medium high heat, brown chicken pieces in olive oil.
Once browned, remove from pan and set aside. A good browning is all it need, doesnt have to be all the way cooked. You'll finish cooking it later, no one likes tough chicken!
Add butter to pan and sauté mushroom until tender.
Season mushroom with salt and freshly ground pepper.
Add minced garlic to pan and sauté for additional 1-2 minutes.
Pour in chicken broth and bring to a simmer; use chicken broth to deglaze the pan by scraping up the flavorful brown bits.
Stir in heavy cream and uncooked pasta.
Once the entire mixture is simmering, cover and reduce heat to low.
Cook covered for 15-18 minutes.
Remove from heat and stir in parmesan cheese and top with fresh parsley.
Alfredo sauce will continue to thicken as it cools.
http://thegrocerygoddess.com/one-pot-mushroom-chicken-alfredo/
*recipe adapted from number-2-pencil.com*