GG Wings! If you haven't tried them, you are missing out. Seriously! GG Sauce; a sweet sticky garlicky but with a kick sauce pairs nicely with chicken wings (as well with veggies, shrimp, burgers and everything else). Below I share my GG Wings recipe with you. Enjoy!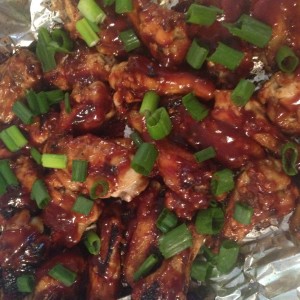 Ingredients
chicken wings
1tsp salt
1tsp pepper
1 bottle of GG Sauce
1/3 cup choped spring onions
Instructions
preheat oven to 400 degrees and grease baking dish.
wash and prepare chicken.
season chicken with salt and pepper, place chicken in greased baking dish and place in oven for 20 minutes.
pour GG Sauce evenly (or a lot) over wings and pop back in oven for 20-30 minutes or until cooked through and sauce has darkened.
garnish with chopped spring onion and enjoy!
http://thegrocerygoddess.com/gg-wings/