Simple tasty anytime tilapia ready in 20 minutes!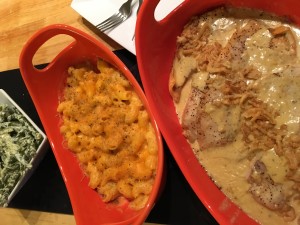 EASY Creamy Baked Tilapia
Ingredients
2 garlic cloves, minced
2 tbsp butter
1 1/2 cup heavy cream
1 tbsp flavor god chipotle (or whatever seasoning)
4 tilapia filets
salt and pepper to taste
Instructions
Preheat your oven to 350 degrees. Grease your baking dish with olive oil and salt and pepper your tilapia. Bake for 10 minutes.
Meanwhile, heat up your butter and garlic. Sauté for 3 minutes.
Add in your seasoning, stir well. Add cream, stir well. Reduce for 10 minutes.

watch for overflow

Pour creamy sauce over tilapia and bake for another 5 minutes.
Top with crunchy onion or fresh herbs and enjoy!
http://thegrocerygoddess.com/easy-creamy-baked-tilapia/
*Find my cool green salad here I used green beans this time
**Find my Mac n Cheese here