Need a easy weeknight meal? Try this one skillet lasagna! Easy yummy meal in 30 minutes!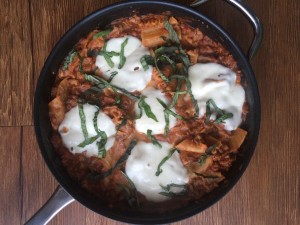 Ingredients
2 strips of bacon
1/2 lb ground beef (can substitute with turkey or chicken)
1/2 onion, chopped
3 garlic cloves, chopped
1/2 tsp salt
1/2 tsp pepper
1 tsp oregano
1 tsp red chili flakes
1 1/2 cup pasta sauce
1 1/2 cup crushed tomatoes
1/2 cup water
6 lasagna noodles, broke into pieces
basil
5 tbsp ricotta cheese
mozzarella
Instructions
Cook your bacon crispy. Add ground beef and break down as it cooks 5-7 minutes on medium high heat. Add in your onion, garlic, salt, pepper, oregano and chili flakes. Cook 3 minutes.
Add your pasta sauce, tomatoes and water. Stir and bring to a simmer. Add noodles, stir and cover for 15 minutes on medium high heat.
Stir in your ricotta cheese. Then top with fresh mozzarella slices and basil! Let mozzarella melt then serve!
http://thegrocerygoddess.com/one-skillet-lasagna/