It's Friday! Like you didn't know that already, but if you didn't I'm here to remind you. This Friday's post is a little different. Once in awhile my Friday posts will be a #FeatureFriday post. Where I will obviously feature something. Wether it's a restaurant, food truck, food item, recipe or whatever! So to kick off this #FeatureFriday I got 3 features.
So this week been a awesome foodie week for me. I went to LaRue (located Downtown Greensboro 313 S. Greene St) for lunch this past Monday because they posted this awesome cheesy ham sandwich they called the 'Croque Madame'. And one thing about this place is that their menu changes almost every other day, with Daily Chef Plates. So I had to try it out.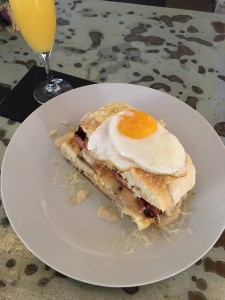 I actually got to see them create my dish, which was cool. Daniel was the chef by the way. This Croque Madame consisted of thick cuts of ham, gooey gruyere cheese between ciabatta bread smothered in a bechamel sauce and topped with a fried egg. Woo! Talk about goodness? This was the best ham sandwich I ever had.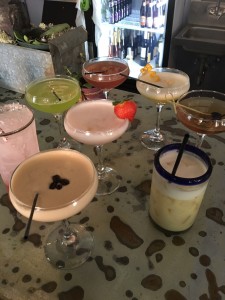 The master cocktail creator was Greg! This guy was cranking out some of the most unique crafted cocktails. I came on a great day because this was the day he prepared for their 'Nightly Duels' which consist of two cocktails and you tell em which one you like! I got to try all ten! No I didn't have ten full drinks. But I did have a nice buzz from sampling. 🙂

Not only was the food and drinks great but the people who work here are awesome too! I got try a new spot and meet new people who loved their craft and inspired me. This was a perfect way to start my week!
Today I went by Blue Denim (located Downtown Greensboro 217 S. Elm St) a new spot but the owners aren't new. They were once next door at Finn Castles. So glad that they are back because they had the best Fried Green Tomatoes and Shrimp Po Boys! Their menu is creole inspired.
Jody and his wife Anne runs the joint. I'm actually friends with his mom Ms. Linda who has the best Pimento Cheese and Pimento Cheese stuffed pickles! The good cook gene definitely runs in their family.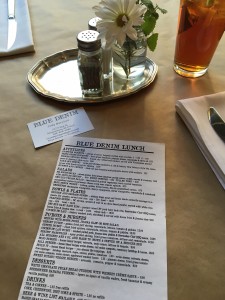 Of course I ordered the Shrimp Po Boy because I haven't a good one since them! This sandwich never fails me. With a side of fries with in house ketchup. Oh! Plus a side of the comeback sauce to drizzle over everything.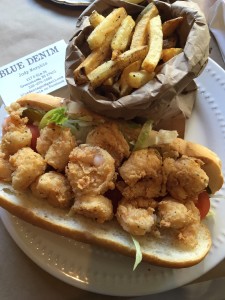 Great food and people! How can you complain? Please go and check out these awesome local joints! Add some spice to your foodie palette.
Thanksgiving next week. I'm a share a few recipes so you can try. Here is my Boozy Pumpkin Pie.
Ingredients
1 can pumpkin
1 cup heavy cream
1/4 cup milk
2 eggs
3/4 tbsp pumpkin spice
1/8 pepper
1/2 tsp salt
1/2 cup white sugar
1/2 cup brown sugar
3 tbsp bourbon
Instructions
Prepare your crust accordingly.
Mix all ingredients well, fill pre-baked crust.
Bake at 375 degrees for 45 minutes.
Let it completely cool, slice n serve!
http://thegrocerygoddess.com/featurefriday/