Yes! GG Sauce goes great with burgers. Here is my recipe for these yummy juicy beefy burgers!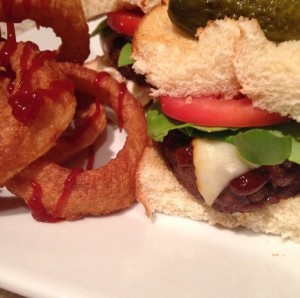 classic GG burger served with onion rings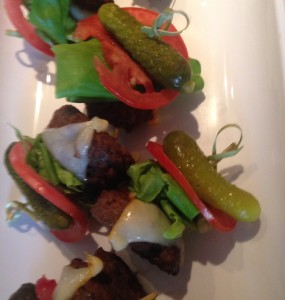 bun-less GG burger sliders
Ingredients
1lb ground beef
1/2 cup GG Sauce (or more if you like)
1tsp salt
1tsp pepper
lettuce, onion, tomato, pickle or any other condiments you like with your burger!
Instructions
prepare ground beef with salt, pepper and GG Sauce
mix well, cover and refrigerate for 1 hour
preheat oven to 400 degrees
line baking sheet with foil and place baking rack on top
shape ground beef into patties and place on baking rack
bake for 20-30 minutes and flip half way through

towards the end I add 1tbsp of GG Sauce on top and cover it with a slice of muenster cheese

let them rest slightly before serving
http://thegrocerygoddess.com/gg-burgers/