You can now taste the recipes from my blog at the markets I attend. I will choose a recipe to be featured, have the recipe already made and for sale or I might do a live demonstration. You just have to come by to find out. Yesterday at The City Market I did the strawberry shrub recipe. I bottled a few up and had them for sale along with samples. Great turn out! Yes I will still have other goodies such as GG Sauce at the markets. See you guys at the markets!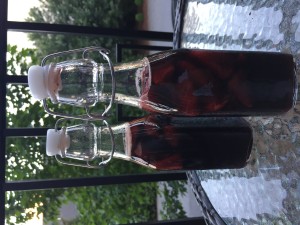 Strawberry Balsamic Shrub with White Pepper
Ingredients
1lb strawberries, washed and quartered
1 cup sugar
1 cup balsamic vinegar
2 tbsp white pepper
Instructions
Prepare your berries, wash and cut them. Place in bowl.
Pour sugar over berries, mix well, cover and place in fridge up to 3 days.
Strain mixture, mix strawberry juice with vinegar and white pepper. Pour in bottle add a few berries for presentation.
http://thegrocerygoddess.com/feature-recipes-the-markets/