Recipe alert! Spring is here and it's about time for crisp fresh veggies! Also it's time to take all those layers off and show off those summer bodies, right? Here is a salad that I absolutely love! My mom would always make this and I could eat a whole bowl of it. A light creamy tangy (not too tangy) salad. Great to eat by it self or along side a juicy chicken breast. Cucumber is normally used, but I once steamed some green beans and tossed them with the same mixture. Delicious! So i think any veggie might work with this. Simple 3 ingredient cool green salad to satisfy your taste buds without much guilt.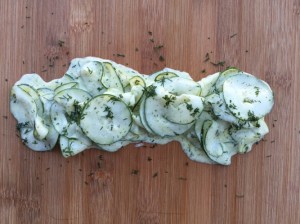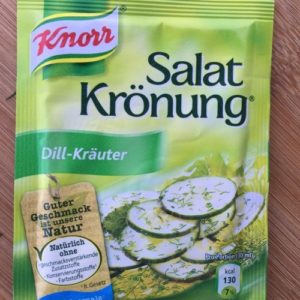 Its not easy to find this packet, but if you look down the international isle you might find it. If you cant find any, e-mail me and I can ship it to you!
Ingredients
1 packet of Knorr's Salat Kronug
1tbsp olive oil
2 spoonfuls of plain greek yogurt
1 large cucumber (thinly sliced)
Instructions
Mix together Knorr's, olive oil and yogurt.
Using a mandoline, thinly slice cucumber over top of mixture.
Mix well and top with freshly chopped dill. Store in fridge until serving time.
http://thegrocerygoddess.com/cool-green-salad/