One pot meals are magical. Personally I don't like to make a big mess with dishes or stand in the kitchen too long. It's days i love being in the kitchen all day but sometimes I need a one and done meal!
My boo came into town and cooked me this meal. I got on his nerves hovering over him and trying to tell him what to do lol! So I ran off with the recipe and tweaked it.
This skillet meal is so good! Bacon is involved and bacon grease! Cooking chicken or veggies in bacon grease is so magical. It steps up the flavors in so many ways! The fresh components of the spinach, onions and tomatoes. The fatty components of the bacon and heavy cream balances it out. Oh! Plus this meal makes for leftovers. Who doesn't love good leftovers!?
I like to call this pasta meal The Creamy BLT Chicken. Enjoy!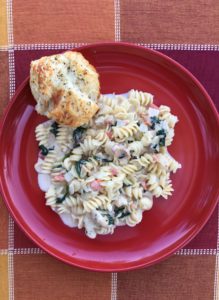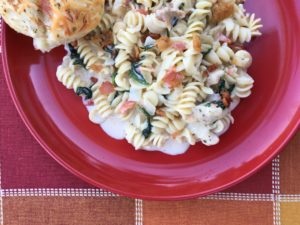 Ingredients
5 strips bacon, chopped
3 boneless chicken breast, chopped
2tbsp Italian seasoning
1 small onion, diced
1 tomato, diced
2 cups spinach
2 cups heavy cream
1 cup Italian blend cheese
16 ounce rotini pasta, cooked
Instructions
Start by preparing everything as far as chopping, dicing and cooking the pasta. So this recipe can go along swiftly!
Heat your skillet to medium-high heat and crisp your bacon. About 5 minutes.
Remove a few pieces of bacon and set aside. (Keep your bacon grease in skillet!) Add your chicken, seasoning and turn heat to medium. Cook about 5-7 minutes. Stirring occasionally.
3 minutes in add your onion.
Stir everything real good. Chicken should be fairly cooked and onions translucent.
Add your tomatoes and spinach. Cook until spinach wilt.
Add your cream and reduce 6-8 minutes or until slightly thick.
Turn heat OFF add your cheese. Stir then add your pasta. Mix well!
Top with bacon and enjoy!
http://thegrocerygoddess.com/the-creamy-blt-chicken/
*I like buying pre-diced tomato and onions for this recipe. Makes it hassle free. Less dishes to wash!
**I cut my bacon and chicken with kitchen shears. So simple and affective.
***I reserve some of the pasta water just in case my pasta sauce gets too thick.
****This meal is freezer friendly. Don't add your cheese yet, if you want to freeze this meal.