The best way to melt all this snow is by making a warm bowl of hearty healthy chili!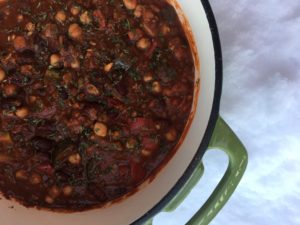 Ingredients
7 Garlic Gloves, minced
1 large Onion, chopped
1 Jalapeno, chopped
1 Bell Pepper, chopped
1 Zucchini, chopped
1 Yellow Squash, chopped
2-15oz can of Kidney Beans, drained and rinsed
2-15oz can of Chick Peas, drained and rinsed
1-28oz can of Crushed Tomatos
6oz Tomato Paste
1/2 pack of Soy Chorizo (or a veggie sausage crumble this step optional)
2 tbsp Chili Powder
1 tbsp Oregano
1 tbsp Cumin
Salt and Pepper to taste
2 tbsp Olive Oil
Instructions
The best way to execute this recipe is by prepping everything. So have everything chopped up and measured out.
In a large pot add your olive oil over medium heat. Add your onion, jalapeño and garlic. Cook 3-5 minutes.
Add your bell pepper, cook 2 minutes.
Sprinkle in all your seasonings and S+P, stir in well.
Add your zucchini and squash. Stir and cook 1-2 minutes.
Stir in your tomato paste, cook 2-3 minutes.
Add in your beans and crushed tomatoes. Stir well. Take your crushed tomato can and fill it up with water and pour in the mixture. Mix well.
Add in soy chorizo and mix well.
Turn up your heat to bring it to a simmer. Cover and turn heat to low, simmer for 1 hour.
Serve with cheese and a dollop of sour cream. Or with some Frito Lays. Enjoy!
http://thegrocerygoddess.com/vegetarian-chili/