Hope everyone had a wonderful Memorial Weekend! This is the unofficial start of summer! Even tho I didn't see many cookouts which was odd. But I traveled out of town to Maryland, where I had a good ole time. I searched a few local good eats and here is what I indulged in.
I stopped at Iron Rooster located in Baltimore. It's like a breakfast brunch spot. You can even come for dinner but breakfast is served all day! I got the BLT&E which was pork belly, crisp lettuce, fried green tomato, sunny side up egg with a garlic aioli all between a buttery brioche bun! My boo got the biscuits and gravy. He was trying to compare mine with theirs. (Mine is better of course) Everything about our food was delicious! I ate everything on my plate including their home fries! If you go here, check in with their social media. You get free crispy bacon! I had to try their homemade pop tart too. I got it to go so they didn't heat cause they thought I would. I didn't know I was eating anyways! So they heated it for me lol!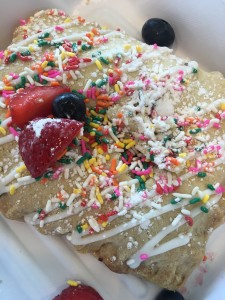 I also got to try out Mason's Lobster Roll. I have indulge in lobster rolls before and they were alright. But let me tell you about Mason's? Sooooo good! This was the real deal! So good we went back for seconds! We tried the classic roll, lobster salad roll and the lobster blt roll. Which were all good but the classic takes the cake! I can't wait to go back up here and pig out on lobster rolls!