Friend of mine asked me if I could make goulash. So I looked it up and seen that my favorite chef (Chef John) had a recipe for this. It's cold out so why not a hearty spiced meal. We rated this 5 stars.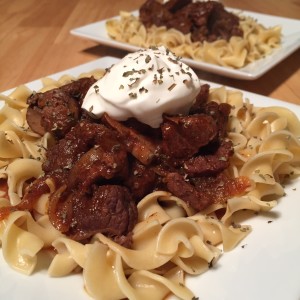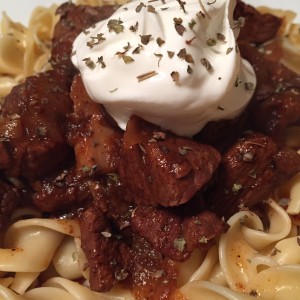 Ingredients
2 tablespoons vegetable oil
2 pounds boneless beef chuck, cut into 2-inch cubes, seasoned generously with salt and pepper
2 onions, chopped
2 tsp olive oil
1/2 tsp salt
2 teaspoons caraway seeds, crushed
2 tablespoons Hungarian paprika
1 teaspoon freshly ground black pepper
1/2 teaspoon cayenne
1 tsp dried marjoram leaves
1/2 teaspoon dried thyme leaves
4 cups chicken broth (1 to deglaze pan, 3 more added to stew)
1/4 cup tomato paste
3 garlic cloves, crushed
1/2 tsp salt, or to taste
1 bay leaf
1 tsp sugar
2 tablespoons balsamic vinegar
Instructions
Season beef with salt and pepper. Heat skillet on high with vegetable oil and brown each side of the meat. About 5 minutes. Transfer meat to a stockpot, but don't clean out the skillet!
Set skillet to med-high and toss in onions. Drizzle with olive oil and season with 1/2 tsp salt. Cook until softened then transfer to stockpot.
Combine caraway seeds, paprika, black pepper, cayenne, marjoram & thyme in skillet. Toast over med-high heat until fragrant. Add 1 cup of chicken broth and stir. Transfer to the stockpot.
Stir 3 cups chicken broth into stockpot. Add tomato paste, garlic, vinegar, sugar, 1/2 teaspoon salt, and bay leaf; place stockpot over high heat and bring to a boil. Reduce heat to low and simmer until a fork inserts easily into the meat, 1 1/2 to 2 hours.
Garnish with sour cream and fresh marjoram if desired.
http://thegrocerygoddess.com/goulash/
*I tossed in some baby portobello mushrooms in last minute
**Recipe adapted by foodwishes.com