It's officially soup season y'all! It's cold out so keep warm with this hearty Chicken Noodle soup. Any time I hear chicken noodle soup I automatically think of that lil mama song! *Chicken noodle soup! chicken noodle soup! chicken noodle soup with a soda on the side!* Enjoy!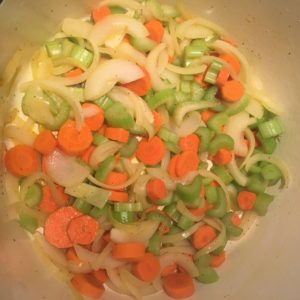 sautee them veggies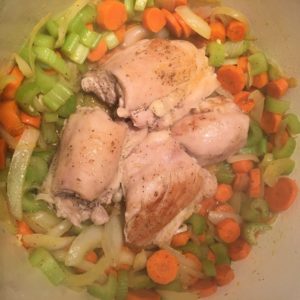 brown your chicken, mine was acting stubborn
season and simmer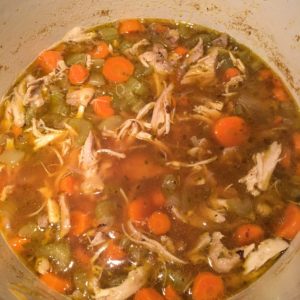 shred chicken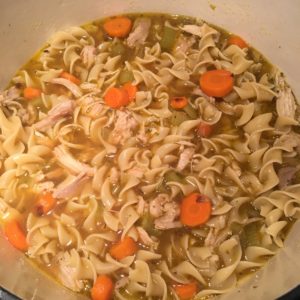 add your noodles and eat up!
Ingredients
4 Chicken Thighs (Bone In or Boneless, Skin Removed)
3 Celery Stalks, diced
3 Whole Carrots, peeled & diced
1 onion, sliced
4 garlic cloves, minced
1/2 tbsp Oregano
32oz Low Sodium Chicken Broth
8oz Egg Noodles, cooked (keep a cup or 2 of pasta water)
1 tbsp Olive Oil
Salt and Pepper to taste
Instructions
Heat your soup pot or dutch oven with olive oil to medium heat. Toss in your celery, carrots and onions. Season with a pinch of salt and pepper. Cook and stir 5 minutes.
Add your garlic cook 1 minute. Stir everything together then push to the side making a well in the middle. Season your chicken lightly with salt and pepper and place in the middle (add a little more oil if needed) Cook each side 3 minutes, until browned.
Sprinkle in your oregano, stir. Add your chicken broth. Stir and bring to a boil. Turn down to medium low heat and simmer for 30 minutes.
Take out your chicken, remove bone and shred. Add chicken back and add your noodles and pasta water if you need more liquid.
Stir everything up, add more salt or pepper if needed. Top with fresh parsley and enjoy!
http://thegrocerygoddess.com/chicken-noodle-soup-with-a-soda-on-the-side/