Quick recipe for a quick pickling of some red onions! Top these on tacos, sandwiches or whatever you desire. Enjoy!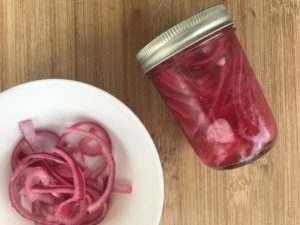 Ingredients
1 Large Red Onion, thinly sliced
1 cup Apple Cider Vinegar
2 cups warm Water
2 tbsp Sugar
3 tsp Salt
Instructions
Heat up your water (do not boil). Add your apple cider, sugar and salt.
Whisk everything together until sugar and salt dissolves.
Put you sliced onions in a mason jar, pour mixture over onions.
Place in fridge for at least 1 day. They will last in the fridge for a few weeks unless you eat them all!
http://thegrocerygoddess.com/pickled-red-onions/