So these past two months I've been on this vegetarian/pescatarian diet. What is a pescatarian you might ask? They have a vegetarian diet excluding all meat but fish. Yes, I'm giving up chicken. As hard as that sounds, I've been doing pretty good. I had a few relapse but I've been meat free for 2 weeks now! I can already see changes in how I feel also how my bowels move. TMI I know, but it's important to share. I will still be posting recipes that involve meat, so no worries. But right now I'm going to share with you TASTY vegetarian meals that even a meat lover like myself would love!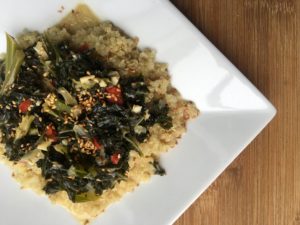 Ingredients
1 bag of Kale, chopped
1 red pepper, chopped
1 Onion, chopped
6 Garlic Cloves, minced
1tsp Salt
1tsp Pepper
1tsp Garlic Powder
1can Coconut Milk
1tbsp Coconut Oil (or whatever oil you have on hand!)
Instructions
Start off by sautéing your pepper, onion, garlic with coconut oil. For 3-5 minutes. Add your salt, pepper, garlic powder and stir well. Cook 1-2 minutes. Add in your coconut milk, bring to a slight boil/simmer. Once your mixture is at a simmer add in your kale. Stir well, cover and turn heat to medium-low to low. Cook about 6-8 minutes. Until most but not all of the milk is gone. Serve over quinoa or rice. Also good as a side dish. Enjoy!
http://thegrocerygoddess.com/vegan-kale-delight/