So Monday was meatless Monday plus 4/20. I some how got tied up cleaning! I did participate in 4/20 activities later that night. Anywho! I made this spinach and artichoke mac n cheese for meatless Monday's. Found this recipe on Yammies food blog. I made a few minor adjustments like sautéing the garlic and onions. Plus I used a Italian cheese blend. Came out delicious. It's like your favorite dip mixed with pasta.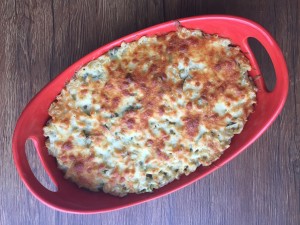 Spinach & Artichoke Mac & Cheese
Ingredients
16oz elbow macaroni
1 cup artichokes, chopped
1 cup spinach, chopped
1/2 onion, chopped & sautéed
3 garlic cloves, chopped & sautéed
8oz cream cheese, softened
2 cup mozzarella & swiss cheese, shredded (plus 1 additional cup for the top)
1tsp FlavorGod Garlic Lovers seasoning
1/4tsp black pepper
1 cup heavy cream
Instructions
Grease your dish and preheat your oven 400 degrees.
Prepare your pasta as directed on box. Cook and drain.
Combine all your ingredients except for the additional 1 cup of cheese and heavy cream. Then mix in your pasta and heavy cream, mix until cheese is melted through.
Top with cheese and bake for 30 minutes.
Let cool and dig in!
http://thegrocerygoddess.com/meatless-monday-on-a-wednesday/
adapted from yammiesnoshery.com